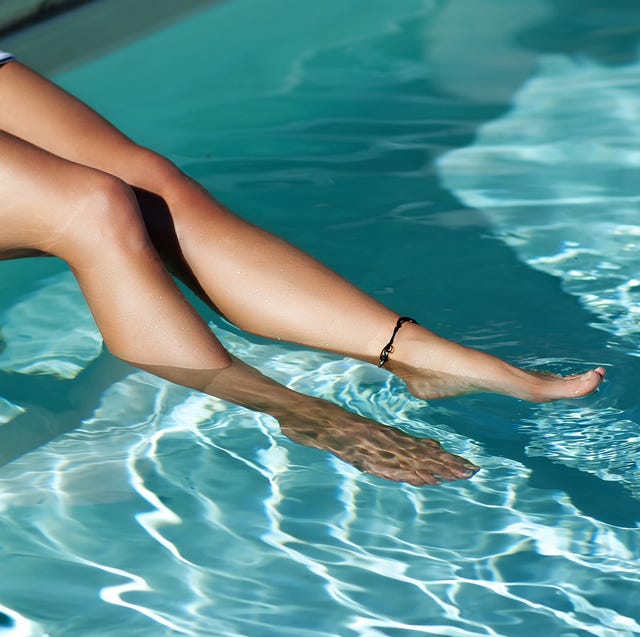 Yannick Moigne / EyeEmGetty Images
Shaving is a nuisance for everyone, but the right razor can make the experience much better. Unfortunately, there are a ton of razors out there that don't get as close as they should — not to mention the fact that they get dull after only a few uses. In addition to looking out for these issues, it's important to search for a razor that contours to your legs so that you're not at risk of cutting yourself. We've rounded up some amazing options that will help you get a super close shave.
Advertisement – Continue Reading Below
For Affordable Style
Razor
Flamingo
shopflamingo.com
$9.00
Shave comfortably with the Flamingo razor's ergonomic handle. It also has five blades and comes in the cutest colors, including taro and rose gold, and pomelo and silver.
For a Disposable Option
Sensitive Women's Disposable Razors
Gillette Venus
amazon.com
$12.97
It's always good to have some disposable razors on hand — especially if you travel frequently or host house guests. This Venus razor has three blades surrounded by a moisturizing strip to make sure your skin stays smooth. It's also safe to use if you have sensitive skin. 
For Your Bikini Line
Hydro Silk TrimStyle Moisturizing Razor with Bikini Trimmer
This razor is intended to make shaving both your legs and bikini area much more simple. On one side, it has five curve-sensing blades that have built-in skin guards intended to reduce irritation. The blades are also surrounded by a hypo-allergenic moisturizing serum that will leave your skin feeling smooth and comfortable. The other end of the razor contains a comb with four settings so that you can customize the closeness of your bikini area shave.
For Convenience
Billie Razor
$9, mybillie.com
The billie razor has five blades that are surrounded by charcoal soap in a rounded cartridge, which allows it to easily contour to your curves. Plus, once you've ordered, you can get four replacement blades for only $9 whenever you need them. You can also schedule replacements to come monthly or at other periods of time based on how frequently you shave.
For More Bang for Your Buck
5 Blade Razor for Women
The Solimo razor has five blades surrounded by water-activated botanical oils that help to moisturize the skin. This pack in particular includes one handle and shower suction hanger, along with 12 refillable razors.
Electric Razor for Women
Brori
amazon.com
This razor can be used in or out of the shower for a super close shave. It's rechargeable and intended for both your legs, bikini and underarm areas. It contours to your skin and has a hypo-allergenic blade that's made of floating foil and stainless steel — so it's perfect if you have sensitive skin.
For a Chic Safety Razor
The Rose Gold Single-Blade Razor
This razor was created for girls with thick and curly hair—and it only has one blade. The razor is perfectly weighted so that the blade glides evenly over your skin, thus preventing ingrown hairs and irritation. Also, it also comes in a beautiful rose gold hue!
For Facial Hair
Flawless Women's Painless Hair Remover
Finishing Touch
amazon.com
$19.88
This little razor is the most perfect way to remove any facial hair. It takes one AA battery, and it's super compact, making it the perfect choice to take with you in your makeup bag if you're traveling. It's 18K rose gold-plated, and it's gentle enough for you to use every single day.
Borrowed from the Boys
Nostalgic Long Handle Butterfly Open Double Edge Safety Razor
If you're looking for simplicity, look no further than this Weishi razor. It has one super sharp blade, and it's perfectly weighted so that you get the perfect shave without having to apply too much pressure.
For Easy Control
Platinum Extra Smooth Metal Handle Women's Razor
Gillette Venus
amazon.com
$22.68
This Gillette razor has a solid metal handle that's molded to fit your hand—so it's super comfortable to hold. It has five blades that are surrounded by a water-activated moisture strip. The razor head is movable and contours to your curves. The metal handle makes it much easier to hold and control.
For an Electric Shaver
Electric Shaver for Women
The best part about this razor is it makes it nearly impossible to cut yourself. It has pivoting heads that you can use in or out of the shower—even if you have sensitive skin. It's also super easy to clean: you just hold it under running water for a few seconds. Don't worry, it's suitable for sensitive skin and it's hypoallergenic. 
For a Delightful Fragrance
Venus ComfortGlide White Tea Women's Razor
Gillette
amazon.com
$16.99
This is the exact razor that I've used for years. Not only does it give me the closest shave, I love the smell, which is white tea. It has three blades and a pivoting head that hugs all of your curves. Of course, it also has a water-released moisture strip, which is where the amazing smell comes from.
Advertisement – Continue Reading Below