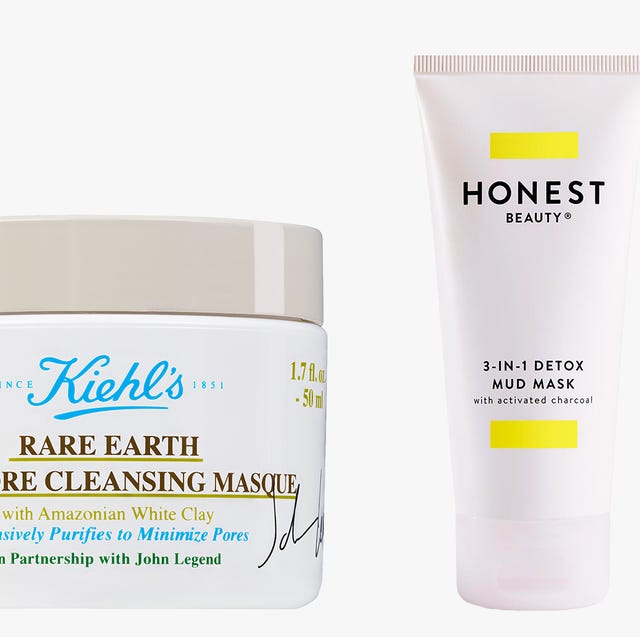 Courtesy
If you've got oily skin, finding the perfect face mask can be daunting. You don't want something harsh that will completely dry your skin out, but you need to find something to counteract overactive sebaceous glands. And somehow, summer seems to exasperate it all!
But don't fret, Dr. Sobel, a New York-based dermatologist, is here to help. He recommended a few key ingredients to look for in an oil fighting face mask: "Look for Kaolin and Bentonite Clay varieties, which are highly absorbent, and help draw out impurities from the skin and clear pores," says Dr. Sobel. "Glycolic Acid and Salicylic Acid reduce excess oil and prevent pores from clogging that lead to breakouts." Additionally, sulfur is another great ingredient for those with oily skin because it absorbs excess oil and has antibacterial properties as well. Ahead, shop seven face masks to help keep your oil production in check.
Advertisement – Continue Reading Below
1
For A Derm's Pick
Rare Earth Deep Pore Cleansing Masque
Kiehl's Since 1851
sephora.com
$35.00
"Featuring Amazonian white clay, this popular mask is ideal for oily skin that needs extra TLC loosening and sweeping away debris, unclogging pores, and softening skin," explains Dr. Sobel. "White clay is a powerful skincare ingredient that works to purify and rejuvenate skin." Clay also acts as an exfoliant by gently removing the top layer of dead skin cells, leaving skin healthy and glowing.
2
For A Derm's Pick
Yuzu Lemonade Peel Salicylic Acid Vitamin C Treatment
Savor Beauty
savorbeauty.com
$80.00
This 30-second beta-hydroxy-acid (BHA) peel contains a high level of vitamin C to exfoliate for skin clarity. "Salicylic acid, yuzu oil, Kakadu plum, and lycopene extracts unclog pores, brighten complexion, and revitalize skin," adds Dr. Sobel. He also notes that it's ideal for those with oily skin who want quick exfoliation with an all-natural enzyme peel.
3
For A Deep Cleanse
3-in-1 Detox Mud Mask
Honest Beauty
honestbeauty.com
$19.99
Jeju volcanic ash is the key ingredient for oily skin because of its abilities to exfoliate deep within the pores. The mud mask will leave you detoxified with fresh and clear skin.  Cue: OutKast's "So Fresh, So Clean." 
4
For A Shine Fighter
Shine Away Ionic Clay Mask
The drugstore face mask is ideal for those wanting to get rid of oil and shine on a budget. Willow bark will keep your t-zone dry, while also working to hydrate the skin.  
5
For Large Pores
Umbrian Clay Pore Purifying Face Mask
Fresh
neimanmarcus.com
$58.00
Umbrian Clay works overtime to purify the skin and reveal less visible pores. Chamomile flower and Lavender water soothe irritated skin so you don't have to worry about dryness. 
6
For Acne
Chamomile Concentrate Anti-Blemish Masque
Aesop
saksfifthavenue.com
$45.00
The astringent-based clay mask is ideal for troubled skin, or as a spot treatment for blemishes. Use the mask twice-weekly on freshly cleansed skin for fifteen minutes to reveal a more even skin tone. 
7
For A Natural Option
Clarifying Clay Mask
Dr. Hauschka
dermstore.com
$50.00
Just add water. You mix Dr. Hauschka's Clarifying Clay Mask in the palm of your hands before putting in on. The nice thing is that you can balance the thickness of the magic potion by adding more or less water. It's deep cleaning and hydrating without any fuss or frills.  
Advertisement – Continue Reading Below