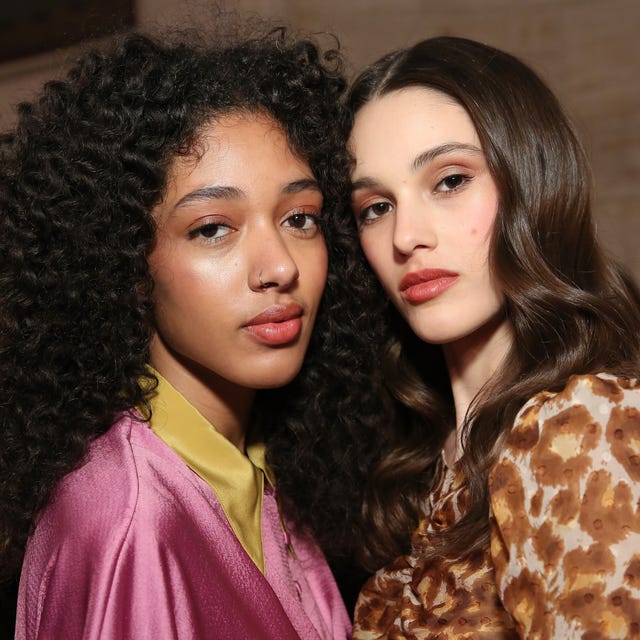 Getty Images
Chances are, you've had a run-in with dandruff once before. Maybe you were wearing your favorite all-black ensemble and looked down to find your shoulders covered in flakes. If you've noticed a bit of scalp irritation, hairstylist Michelle Cleveland recommends you first determine the severity of the situation. Ask yourself: Is it seasonal? Could this be product buildup or diet-related? Or, is this a side effect of a more serious condition, such as psoriasis or dermatitis? (In that last case, it would best to seek advice from a medical professional.)
So, what should you look for once you've identified the source? Cleveland recommends examining the product ingredients carefully and doing your research. Search for personal testimonials and reviews so you can target your exact problem and see results.
The two main ingredients Cleveland advises to look out for are apple cider vinegar (ideal for occasional dandruff) and tar (a more aggressive approach for severe cases of dandruff caused by psoriasis or dermatitis). Both ingredients are great natural alternatives. If fighting dandruff all-natural isn't a must, you can also look for ingredients like zinc and salicylic acid that are commonly used to fight inflammation and skin irritation. Cleveland also says to read the directions carefully and only use products with apple cider vinegar and other chemicals twice a week if you have a sensitive scalp. Here are 11 dandruff shampoos that can help you fight the flake in no time.
Advertisement – Continue Reading Below
1
The Pro's Pick
Apple Cider Vinegar Shampoo
This is Cleveland's top pick for the best dandruff shampoo on the market. Apple Cider Vinegar contains alpha-hydroxy acid that helps exfoliate a dry scalp and halt inflammation, which in turn prevents dandruff.
2
The Tough Guy
Anti-Dandruff Shampoo
Nizoral A-D
amazon.com
$14.59
Nizoral A-D Dandruff Shampoo uses 1% Ketoconazole, an antifungal medication, to control irritation on the scalp that can cause flaking and itching. Since the shampoo is very strong you'll only have to use it twice a week to see results.
3
The All-Natural Option
Dandruff Shampoo
Art Naturals Dandruff Shampoo provides therapeutic relief with all natural ingredients like tar and coal. It's also infused with jojoba and argan to prevent flakes and create healthy, shiny hair.
4
The Drugstore Steal
Smooth & Silky Hair Shampoos
Head & Shoulders
target.com
$5.99
Sofia and Manolo Vergara are on to something. Women's Health also named Head and Shoulders Dandruff Shampoo one of the 30 Best Products of 2018 because of its micro zinc technology that gets deep into roots to cleanse and hydrate the scalp.
5
For All-Hair Types
Scalp Relief Dandruff Control Shampoo
Pyrithione zinc works to fight dandruff and scalp dryness. It's also formulated with lavender extract to soothe irritation. It's been noted to work on all hair types, from straight to curly to everything in between.
6
The Itchy Scalp Solution
Flaky Scalp Shampoo
Philip Kingsley
amazon.com
$36.31
Reviewers note that Kingsley's specially-formulated product fights itchy scalps. One user claims they tried everything including steroids, but this product was the only one to help stop her scalp from itching. It's also been noted to help with seborrheic dermatitis, a skin reaction that causes excessive flaking and itching of the scalp.
7
The Millennial Pink Wonder
Serene Scalp
Salicylic acid, a common anti-inflammatory used in a number of acne products, is used to soothe dry flaky scalps. Users note that it's good for less severe dandruff issues and is very gentle on the scalp. Plus, Oribe took the time to offer a millennial pink dandruff-fighting option that we didn't even know we needed.
8
The Color-Treated Hair's Best Friend
Purifying Shampoo With Jujube Bark Extract
Christophe Robin
amazon.com
$35.00
Robin's Purifying shampoo absorbs excess sebum (oil secretions) to balance the scalp and fix flakiness, itchiness, and irritation. The product is recommended daily and is gentle enough that it won't damage color-treated or gray hair.
9
The Dryness Fighter
Scalp Shampoo
Sachajuan
dermstore.com
$28.00
Sachajuan is a Swedish hair care line that aims to fix common hair problems. This scalp shampoo utilizes salicylic acid to eradicate dry skin and wheat protein to strengthen hair follicles.
10
The Sensitive One
Aloe Therapy Soothing Hair-Body Cleanse
Even the most sensitive scalp can handle this all-natural aloe-based option. One Amazon user noted that it's gentle on her scalp during psoriasis flare0ups. You can also use the shampoo on other parts of your body and it won't irritate your skin.  
11
The Eucalyptus Dream
Dandruff Shampoo
Malin + Goetz
nordstrom.com
$28.00
I buy this shampoo for the sweet smell of eucalyptus alone, but it does wonders to fight dandruff and scalp buildup. Just after one shampoo your scalp will feel smoothed and hydrated thanks to the amino acids and natural tea tree oil.  
Advertisement – Continue Reading Below