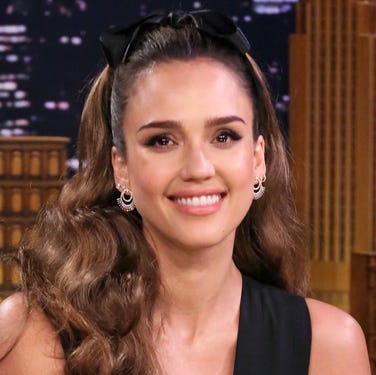 Getty Images
As an actress who has been in the limelight since the age of 12, Jessica Alba has been on countless movie sets, red carpets, and photo shoots. It's made her a beauty expert, and even more of a trusted creator of beauty products at her own brand, Honest Beauty. Unlike many companies, the clean skincare and makeup brand does everything in-house—including product formulation. The latest innovation? Liquid lipstick. It took seven tries before nailing it, but now there are seven universally flattering pink, berry, and neutral shades (currently on sale at Target and honestbeauty.com).
Liquid lipsticks get a bad reputation for being drying, but Alba has managed to introduce a lipstick that not only has major color payoff, but is long-wearing and moisturizing. The vegan formula feels silky and velvety on the lips—but not too goopy or glossy—and dries down demi-matte. Hyaluronic acid, avocado oil, and coconut keeps lips looking juicy over time at an affordable $13 per tube.
Out promoting L.A.'s Finest with Gabrielle Union, Alba told ELLE.com that it had been a long time since she did a press tour and that effects her approach to beauty. "Frankly, doing the 14, 16, and 18 hours days and the 12 hours of press is not very glamorous, but when I go on press tours, for me, it's a time to dress up and [experience] the fantasy, glamorous side of entertainment," she says. "I'll put together a Pinterest board of movie stars who inspire me. I'll put together muses and fashions of that time and then hair and makeup and then I'll collaborate with the makeup artists and the hairdresser to bring it to life."
Considering she's tried so many looks through the years, we decided to walk down beauty memory lane with Alba and get her take on her hair and makeup moments of past and present. Read on for her thoughts on being blonde, having bangs, and the one time she had to chop off all her hair.
Advertisement – Continue Reading Below
1
1998: So '90s
"Oh those eyebrows. I didn't even bother with an eyebrow pencil! And the Victoria's Secret water bra! You're basically looking at chicken cutlets, water bra. I did it all."
2
2003: Green Eyeshadow
"Oh! Look at her. I have no idea who she is, she feels so long ago. That's before I had a stylist and before I had a makeup artist. I 100 percent did my own makeup and hair on that. I always did—my mom went to cosmetology school."
3
2005: Marilyn Monroe 2.0
"I could have done better! You know what happened is my hair was so blonde, and it was so broken that I cut it all off to start all over. I should've just had my tape-ins. I felt like with the blonde it looked better long than short on me—especially with that baby face."
4
2005: Bright Blonde
"I remember those days. I've been blonde a few times. I feel like I look a lot like my mother Cathy Alba and my daughter Haven. Haven and I look very similar with the lighter hair!"
5
2009: Blunt Bangs
"Those are real bangs! I had my hair so many different ways over the years—you can't be too attached. I don't mind the lip matching the dress and the earrings and all the things. Sometimes I feel like you either need a really strong eye or a strong lip, wearing such a bold primary color."
6
2011: Crown Braid and Red Lips
"Doing a double braid is always fun. It makes it a little bit more interesting and adds a little bit of that volume. I originally did a nude lip and it just didn't work because the dress was such a bright blue. It kind of overpowered everything. So, I needed something punchy. I think that's a good lesson: If you're going to do a yellow or a blue dress, experiment with a bright red-orange color on your lips."
7
January 2013: Classic Red Carpet Glam
[In real life] the lip matched the dress. I originally had a nude lip and then I was like, "What if we…?" It was last minute. I felt like it was so old Hollywood glam and the dress was very much that as well. I think we were going for that, but adding that little punchy color to the lip and having it coincide with the coral in the dress just made me feel a little more modern."
8
June 2014: Sleek Hair and Smoky Eyes
"The straight hair was fun. I put, like, 70 tracks in my hair because I don't want to look like a wet dog. When I do the straight hair, I put in many tracks so that it still has volume and doesn't look like I just came out of the water. I remember we added a lot of sea salt spray to get light, good texture and make it kind of puffed up and cool."
9
2016: Blue Smoky Eyes
"The dress was a lot, so doing nothing with my hair and makeup wouldn't have been right. I wanted to do a strong eye, so then of course I did a nude lip and really glowy skin. I like having a good, clean skin canvas and then you choosing to pop my lips or my eyes."
10
May 2019: Girly Black Bow
"Catherine Deneuve [was the inspiration for this look]. Classic. Feminine. Beautiful. The strong brow, and the bow, and the diamonds, and the dress: It was all chic and timeliness. I feel like you can wear that 50 years ago or 50 years from now and it'll always work."
Advertisement – Continue Reading Below